Strategic marketing and sales promotions are essential for the growth and success of any business. Having a promotion offer permit in Qatar is crucial, as it ensures compliance with the country's regulations and helps businesses build trust with their target audience. Therefore, obtaining this license involves fulfilling certain requirements and submitting the necessary documents to the relevant authorities.
The process of obtaining a permit involves submitting an application to the MOCI, along with the necessary supporting documents and fees. The authorities at MOCI will review the application and ensure that all legal requirements are met before granting the permit. It is crucial for businesses to familiarize themselves with the specific regulations and guidelines set by MOCI to avoid any delays or complications in obtaining the required permits. In this blog, we will go into detail about how to get a sales promotion license in Qatar for advertising and associated activities.
Why the Sales Promotion Offer Permit is important in Qatar?
The Sales Promotion License is important in Qatar because it ensures that businesses comply with regulations and guidelines set by the government. The Ministry of Commerce and Industry (MOCI) in Qatar regulates the sales, promotions, and advertising of products and services. This license helps maintain fair competition among businesses and protects consumers from fraudulent or misleading advertising practices.
Additionally, obtaining a Sales Promotion License allows businesses to legally conduct promotional activities such as discounts, giveaways, and special offers, which can help boost sales and attract customers. As per Qatar's law and regulations, businesses looking to engage in a variety of promotional activities must obtain a sales promotion license.
Which types of promotions require a license in Qatar?
Certain types of promotions require a license to ensure compliance with regulations and legal requirements.
These include promotions involving:
Discount sales
Special Offers
Loyalty Programs
Contests
Gifts and Free Samples
Thus, if you're planning to offer these promotions, it's essential to obtain the necessary license. This way, you can run your promotions smoothly and without any worries.
What is Shop With Confidence stamp?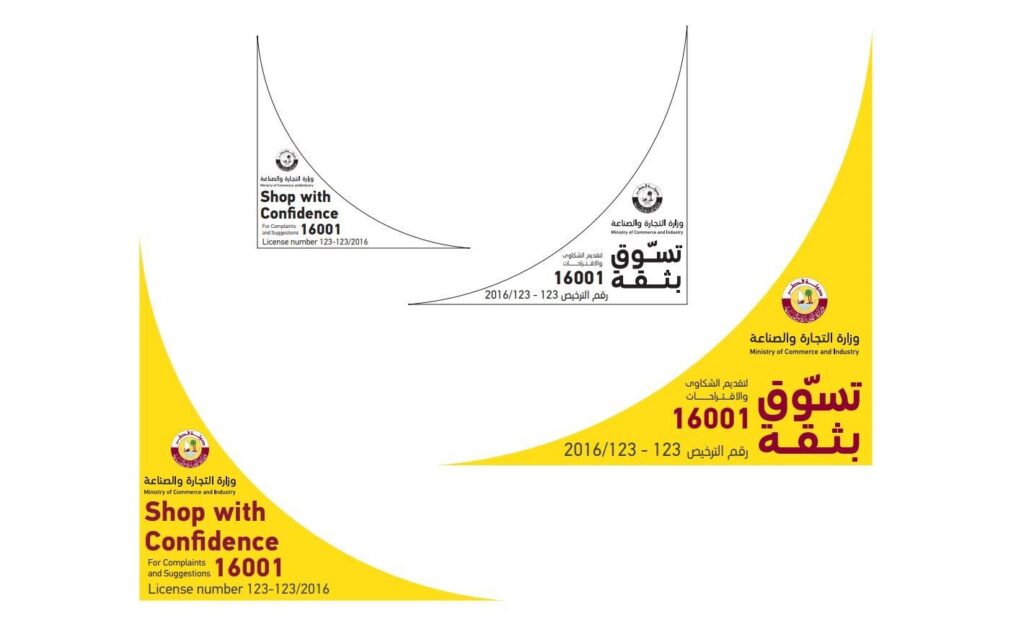 Shop with confidence is a special stamp for reductions and promotions, where it is usually attached to all the commercial advertisements related to promotions, sales or reductions conducted by the shop. The presence of such trademark on an advertisement shows that the shop holds a reductions' license from the ministry and fully complies with all standards, laws and regulations.
What are the steps to obtain a Promotion Offer Permit?
Curious about how to get that Shop With Confidence stamp or Promotion Offer Permit? Here are the steps you need to follow:
Familiarize Yourself
Get to know the regulations and requirements for sales promotion licensing in Qatar. It's important to understand the rules before diving in.
Documentation and Compliance
You need to make sure that all required documents are completed and compliant with local regulations. This often includes a detailed description of the promotions, pricing, terms and conditions, and duration. Hence, this will help authorities understand your intentions and ensure compliance.
Application Submission
Once you have everything ready, you have to submit a formal application to the Ministry of Commerce and Industry and provide comprehensive details about the proposed promotion. So make sure to provide all the required information accurately.
Pay the Fees
As part of the process, there might be some fees associated with obtaining the license.
Review and Approval
Now, it's time to wait for the approval. The relevant authorities will review the application, to make sure that is compliant with the local laws and regulations. Patience is key here!
License Issuance
Upon approval, the Ministry of Commerce and Industry will issue the sales promotion license, allowing you to proceed with your planned promotional activities. You're now ready to run your exciting promotions in Qatar.
How can RCH PRO Services help you to obtain a Promotion Offer Permit?
The process of obtaining sales promotion licenses in Qatar can be complex and time-consuming. Seeking assistance from professional PRO services can streamline the application process, ensuring that all legal and administrative requirements are met efficiently.
Moreover, at RCH, we specialize in assisting businesses in Qatar with all their licensing needs. Our professional team can assist and guide you through the process of obtaining a sales promotion, and make sure that you are staying compliant with local regulations.
For more information and expert assistance, all that you have to do is to contact us today!